Let your users get support through your own support app. Build knowledge base. Connect with your users. Launch a support web app for your product and service in 1-click. No coding required.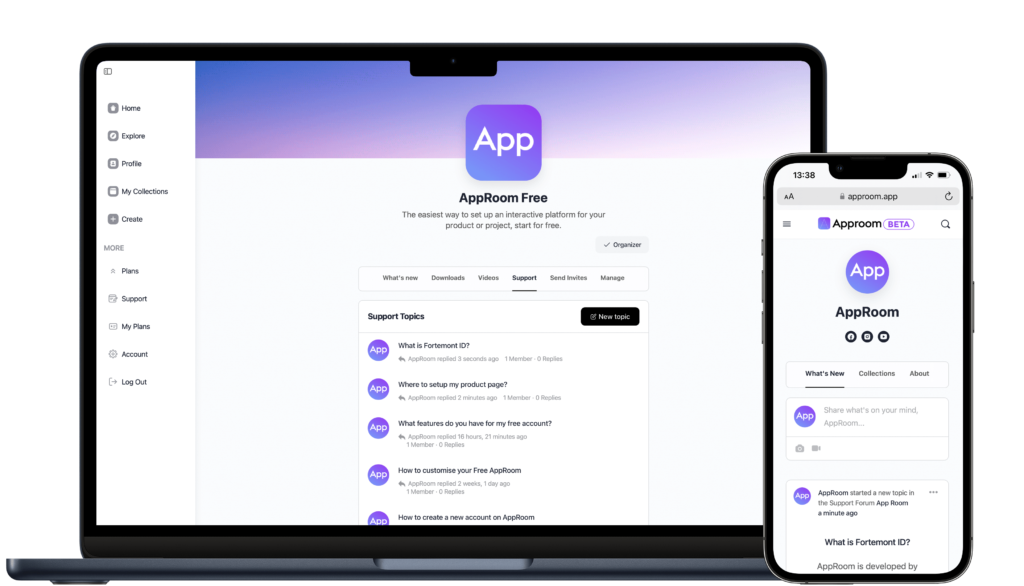 Resource Center
Live Chat
Support Center
Provide support through your web app.
The easiest way to set up an interactive platform for your product or project. Welcome to the onboarding channel!

Official knowledge base and support channel for the Hamelin D'abell Method Webshop. Get help from system... View more

Knowledge and insights in developing your own App Products, tips on providing support to your customer,... View more
approom.app/get/yourApp
Launch a support community
Find answers. Ask questions. Let your users connect with other customers around the world.
Share product news and articles
Your free AppRoom provides a home for all your update. Feedback can now be instantly shared between all your customers.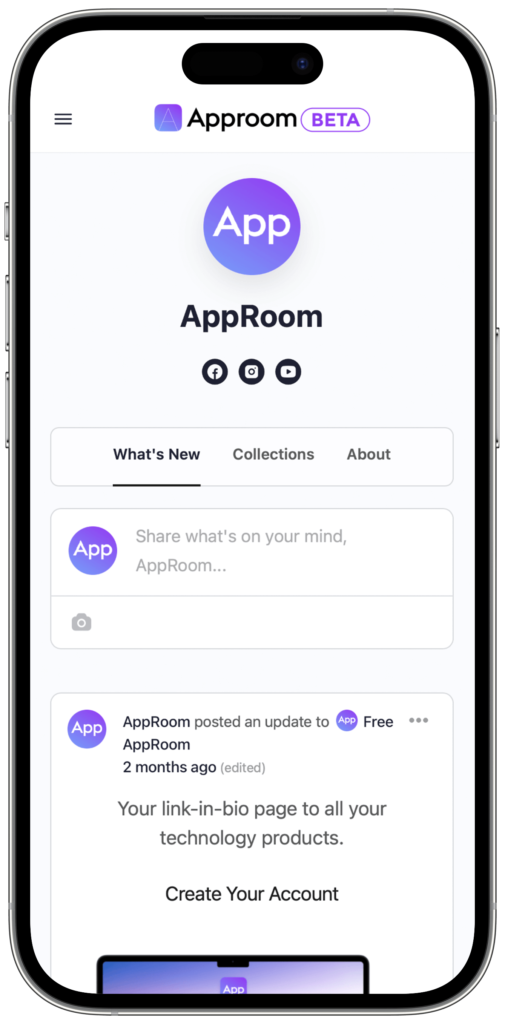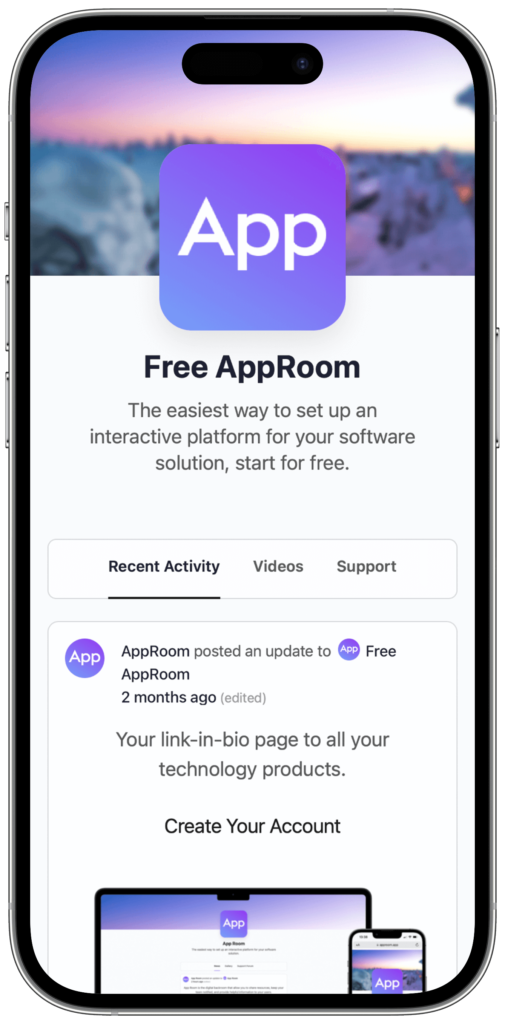 Product knowledge base, it is all ready.
AppRoom Plus give you tools to launch unlimited sites for your product. Skip all the painful setup and devops – get straight to posting, uploading files and videos. Service tickets platform? Ready.
Create & accelerate feedback loops
Posted all your articles to your dev blog on your desktop or mobile device. User can leave their comments on your dedicated social platform, helping you to keep track with trends.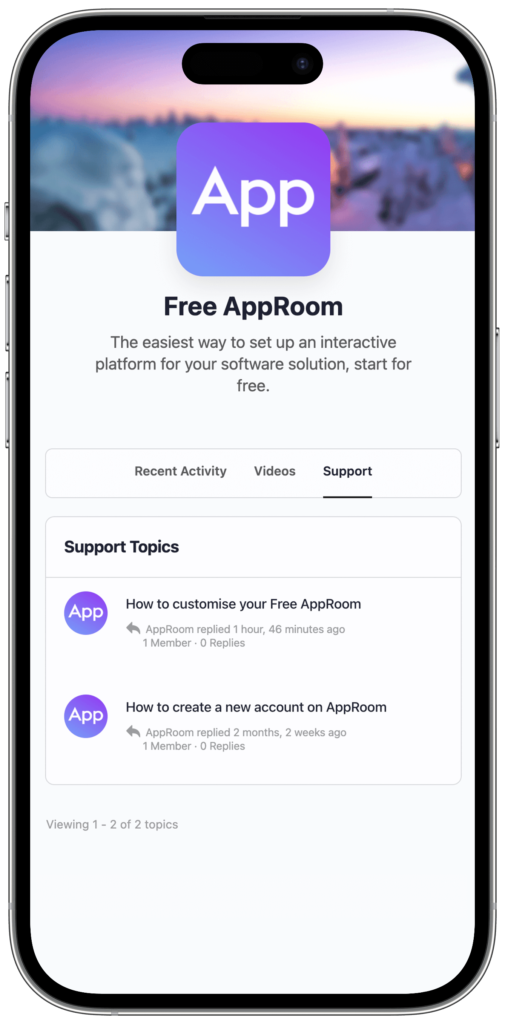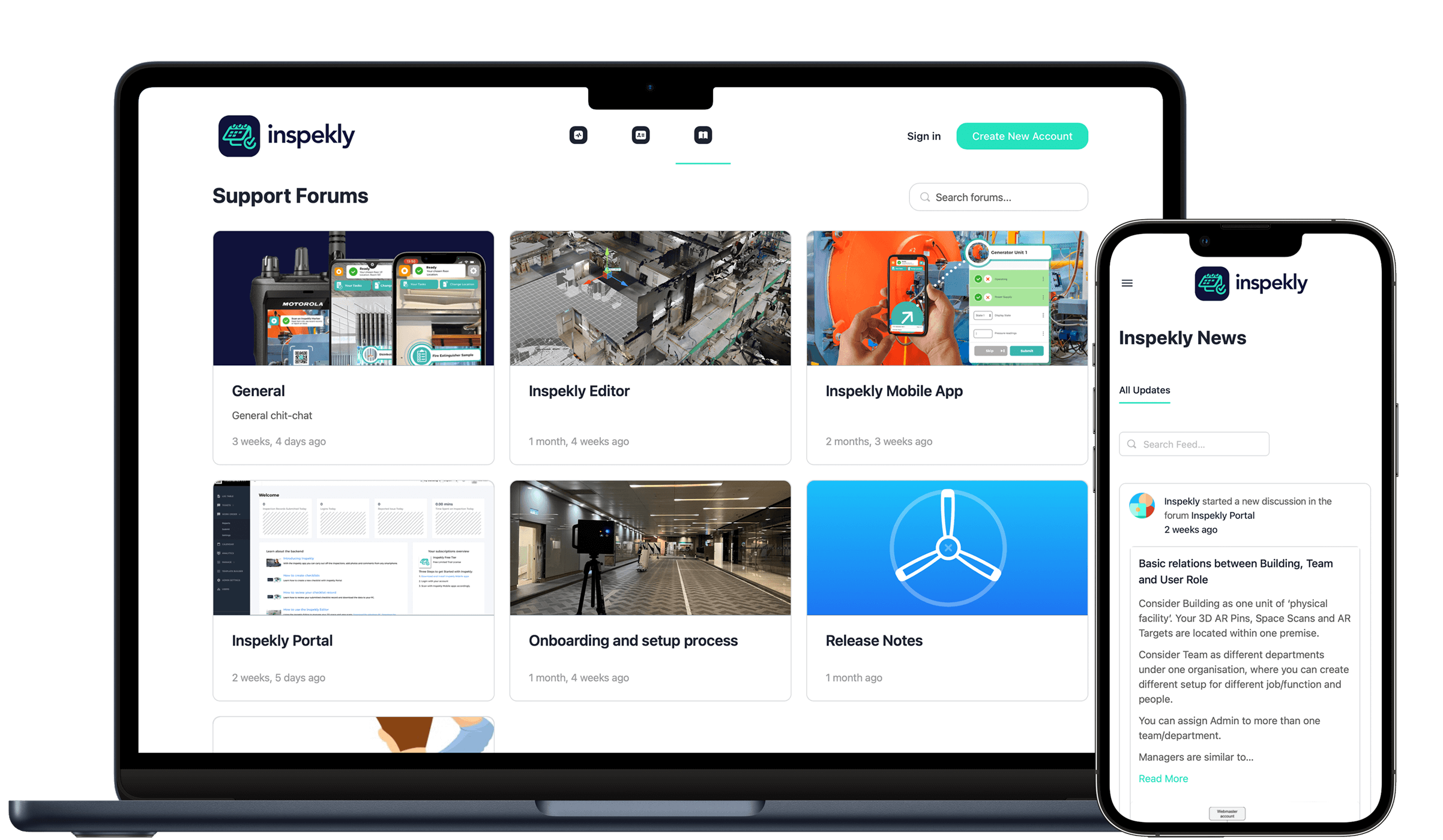 Solutions for startup and organisation.
With AppRoom Enterprise we help you to set up a branded platform for your teams and partners to collaborate with each other. Share app resources, create channels, and publish information in your own terms, tailored to your needs. You can also connect your own domain to your dedicated platform.
AppRoom
Start for free
A free dev blog for you to share the latest stories and articles. All in one simple URL.
AppRoom Plus
$4.99/month.
Connect and send private direct message to a specific user. Setup a shared drive for you to upload files, documents, apps and more through your Support Web App.
AppRoom Business
$39.99/month.
All the great features of AppRoom Plus with our priority support helping you to setup and maintain your knowledge base.
Questions and answers
Is AppRoom Website Builder really free?

AppRoom is free for any Fortemont user to upload images, share links, and publish under the approom.app/yourusername domain. Other features, such as setting up dedicated product page, file drive, video hosting, knowledge and support channel, are available when you make the upgrade to AppRoom Plus.
How AppRoom help my product operation?

We all understand it takes a lot when you are trying to grow a product between product development, go-to-market and customer success. AppRoom provide the tools to support you by having one platform for product updates, communications and supportive information around the product.

Many of us have more than just one product to grow. That's why we build a tool for each user to create more than just one dedicated product pages, making it ideal for small team and start ups when you are testing out the market on a daily basis.

All our tools are designed for mobile operation so it is very friendly to those who are growing their product on the side as well.
How long does it take to make a website?

Traditionally it takes weeks or months to setup a website, from layout design, coding to optimisation. Not to mention making your website mobile-friendly, errors-free and secured.

AppRoom provides you the tool to quickly setup a website in a day, where you can focus on the most important area: the content itself.

Setup knowledge base for your product and share it to your user in needs. Log you product updates. Upload files and videos for everyone to explore and download. All can be done with AppRoom and AppRoom Plus.
How do I assign my custom URL or domain to my AppRoom page?

If you want to link an existing domain that you own to your AppRoom page, please purchase the AppRoom Enterprise plan where a dedicated member of ours will be in touch with you to setup your branded AppRoom, where you can customise features to fit your needs.
Easy and Simple Knowledge Base Website
Launch knowledge base, dev blog, docs site in 1-click. Start for Free.